Quark MUSEUM


Vintage ROLEX Collection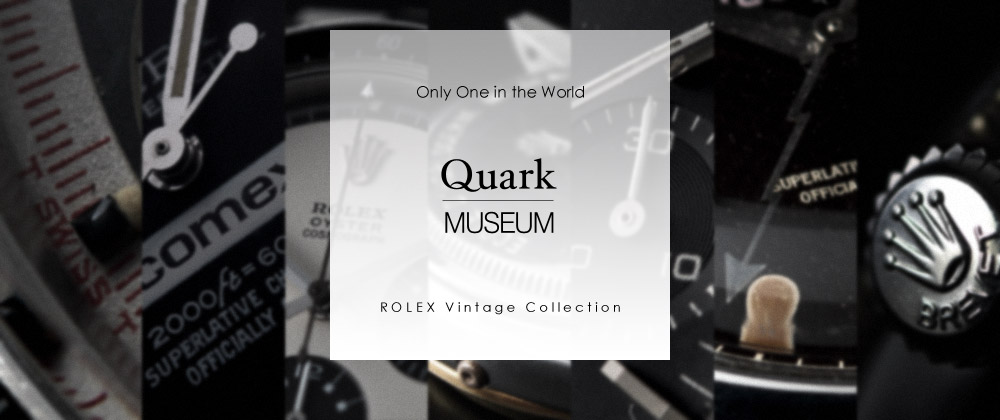 about Quark MUSEUM
This is the world's first "museum of vintage ROLEX watches" that is operated by ROLEX Specialty Shop Quark.

Not only wrist watches, materials such as boxes, parts, pamphlets are exhibited.

Smart glasses and tablet for commentary on exhibits, are lent out free of charge.

Museum Information
Hours
Hours
13:00 - 13:30
14:30 - 15:00
Days
Wednesdays, Saturdays, Sundays
Admission
1000 JPY
Limited to 2 groups per day.
Up to 2 people in a group.
One set 30 minutes.

Please make an reservation on the Internet, and "Photo ID" is necessary at the time of visit.

No photography taken inside the museum.
All luggage including mobile phones and cameras must be deposited in the coin locker before entering the museum.


Contact Us
Access Information
Location
Jujin Bld. 5F
Ueno 5-26-11,
Taito-ku, Tokyo
See on Google Map
Transportation
JR : Okachimachi Sta.

Tokyo Metro :
Nakaokachimachi Sta.

Toei Subway :
Ueno-okachimachi Sta.
for Visitors
Our measures against the Novel Coronavirus (COVID-19).
Other Information
about Reservation
The reservation start of December will be from November 21st.

Please be informed that will be closed for the Year-end and New Year holidays from Saturday, December 26th, 2020 through Sunday, January 10th, 2021.

Please apply from the "Reservation form".



Available Dates on December

SUN

MON

TUE

WED

THU

FRI

SAT

1

 

 

2

×

×

3

 

 

4

 

 

5

×

×

6

×

×

7

 

 

8

 

 

9

×

×

10

 

 

11

 

 

12

×

×

13

×

×

14

 

 

15

 

 

16

×

×

17

 

 

18

 

 

19

〇

〇

20

×

×

21

 

 

22

 

 

23

×

×

24

 

 

25

 

 

26

 

 

27

 

 

28

 

 

29

 

 

30

 

 

31

 

 

⋯ Available  ⋯ Non available



Vintage Rolex Photography Book
ART of ROLEX
Release:13rd March 2019
Price:50,000 JPY +Tax
Limited:500 books
Retailers:Quark each shop,and GINZA TSUTAYA BOOKS, DAIKANYAMA TSUTAYA BOOKS


Language
日本語
View to Desktop Site